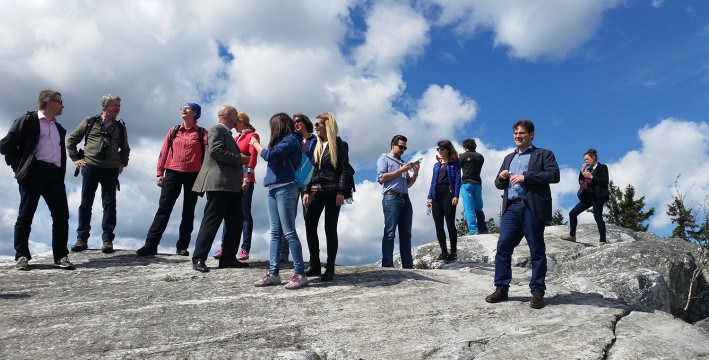 Building international networks – experiences from RDI Advisor Fulvio Rizzo
The economic, political, and societal forces of globalization are increasingly pushing higher education towards international involvement.
Academic institutions in Europe and beyond are nowadays expected to become key players in a global knowledge network (Guri-Rosenblit 2015). In the last two decades, this has led to a dramatic expansion of their international activities, both in volume and scope, as well as in complexity (Altbach and Knight, 2007).
International activities include for instance traditional study-abroad programs, using English as the lingua franca for scientific communication, and the growing international labour market for scholars and scientists (Altbach and Knight, 2007).
An important source, and at the same time, mechanism, which provides the necessary intelligence leading to internationalization is networking. Such concept refers both to the skill, and to the art of building useful linkages within and among a variety of institutions, societies, and communities.
The creation of these links aims at mobilizing resources, achieving various goals, building collaborative strategies, and accessing information and tools. This is especially important in the research environment, not only at the national level, but also at the international level.
Growing, living, and researching in an international environment
The eagerness of experiencing and understanding different cultures has always been a core part of my life.
The eagerness of experiencing and understanding different cultures has always been a core part of my life. Born and grown up in Italy, I have been living, studying and working in Canada and in Finland. Thus, building and being part of international networks is a key, and at the same time, a natural asset of my research skills.
A concrete example of that is given by my doctoral studies, where the topic of my research has focused on an international comparison. The goal of my doctoral research has been to elaborate new insights on the co-evolutionary role of agriculture and rural development in different regional institutional contexts, namely in North Karelia, Finland, and South Tyrol, Italy. Comparing Italian and Finnish rural areas, cultures and practices has involved the building of collaborative networks with experts with international experience.
Also at the Mikkeli University of Applied Sciences (Mamk), my work has been dealing with the building and strengthening of international connections, with the specific goal of accessing new information, planning common projects, and creating cross-border collaborative arrangements.
Experiencing higher education abroad
Internationalisation and globalisation require mobility of people and labour, which causes more competition of competent and educated people (ARENE 2007). Within this context, at the EU level, an important role is played by the ERASMUS + Programme, which allows higher education (HE) staff to teach at HE partners abroad.
The opportunity to participate at the ERASMUS + Programme at Charles University, Czech Republic, in November 2014 has strengthened my research and development skills, especially my portfolio of hard knowledge and soft skills. I gave lectures and seminars on multi-level governance of rural development and policy in the EU and on multifunctionality in agriculture.
In addition, I had the opportunity to participate in a field trip where I familiarized with the different types of land uses that characterize the Czech countryside. My experience from this ERASMUS + Programme has created solid networks with experts from Charles University.
Promoting entrepreneurial culture: the International Association of Science Parks (IASP)
Since promoting entrepreneurial culture is one of the key assets of the universities of applied sciences, it is highly relevant to create links with science parks, whose role include the combination of business and research in order to create new innovations.
The participation as a speaker at the International Association of Science Parks' workshop "Regional specialization and Green Growth" (held in Joensuu in May 2015) has given me the opportunity to increase my knowledge and contacts on the role of science parks' in Europe and beyond by a variety of national and international case studies.
Conference in Aberdeen: platform for international networking and development projects
The European Society for Rural Sociology Congress, held in Aberdeen, Scotland, in August 2015 has also represented an important platform to strengthen the R&D activities of the Mikkeli University of Applied Sciences. Such activities have focused on expanding research networks, and at the same time on planning a future research proposal within the Horizon 2020 Programme.
At the same venue, the conference proceeding "Identifying Social Innovations in Local Rural Development Initiatives" was presented and discussed. In a meeting with other university colleagues, we discussed on developing such proceeding into to a full scientific article. Last but not least, this conference has been an important setting for strengthening national collaborations on how to bring forward ongoing project plans at the international level.
Concluding remarks
"Operating in an international higher education setting has a crucial impact on shaping the missions, strategic planning and operational practices of higher education institutions in the current global society" (Guri-Rosenblit 2015, 13).
My international involvement at Mamk has been developing my skills in teaching, in building new international collaborations, and in developing research projects.
On the other hand, such international activities have brought to the forefront the cutting-edge research, development, and innovation activities of Mamk. By being increasingly involved in the international arena, Mamk will become a strong competitor in the global knowledge network, by attracting young talents, and strengthening its innate entrepreneurial culture.

References
Altbach, P.G., and J. Knight, (2007). The Internationalization of Higher Education: motivation and realities. Journal of Studies in International Education, Vol. 11, No. 3/4, 290-305.
ARENE (2007). The Bologna Process and Finnish Universities of Applied Sciences. Participation of Finnish Universities of Applied Sciences in the European Higher Education Area. The Final Report of the Project. Helsinki: Edita Prima Oy.
Guri-Rosenblit (2015). Internationalization of higher education: navigating between contrasting trends. In Curaj, A., Matei, L., Pricopie, R., Salmi, J., and P. Scott (eds). The European Higher Education Area. Between critical reflections and future policies, 13-26, Springer, UK.