Interactive immersive game wall for youngsters
02.06.2021
Design processes in the intersection of art, design and technology are very topical both from the UAS practice and research point of view. This game wall experience is unique due to its multiplayer aspect. It is operated as a huge touch screen with physical presence required.
The game has an immersive nature, it is played in a 3D space with moving images and a special soundscape that reacts to movement and events. Scoring high in the game requires relying on other group members and moving on swiftly from task to task in a fast-spaced environment.
The design process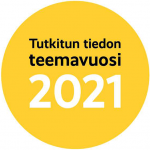 The design process was a value creation challenge in a co-design engagement between art, design, technology and open learning environments. Progressive inquiry, a pedagogical approach that resembles scientific communities was used in the case for the knowledge building process (Leinonen, 2010). Emphasis was also given to end user integration, focal in collective inquiry (Durall Gazulla et all. 2020) which refers to shared knowledge building.
Design processes have a nonlinear nature and require constant communication, problem solving skills and capability to adjust (Marttila, 2018). One of the focal questions was how to engage UAS and comprehensive school students in collaborative learning and collective enquiry.
Learner-centered and human-centered design principles allow involving human perspective in all steps of the problem-solving process. Human centered design is commonly used in design and management frameworks which aim at integrating end users and foster learner centered value creation processes. In this case, learners included Xamk UAS & Russian university design and technology students with the comprehensive school and upper secondary school students and teachers.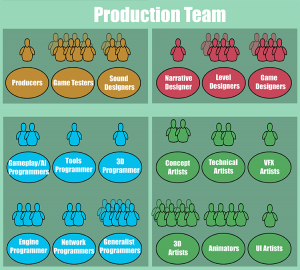 LeJeune (2003) sees collaborative learning as interdependence where individual responsibility and accountability are key elements whereas Panitz' (1996) definition relies on the sharing of authority based on consensus building (as cited in Bowell, Heap 2013). Eagerness to participate in collaborative knowledge building is stimulated in this case study by planning the processes and activities on multiple layers (Baranowski et al., 2016):
1. Interaction with the participant at the focus of the activity.
2. Feedback about the impact of the participants' own actions.
3. The feeling of control. Giving the participant a chance to actively influence the narration, characters and events of the process /game.
4. Identity, how the participant relates to the characters within the narration.
5. Immersion, being integrated into the process /game.
Experience of participation provides learning experiences, competence, independency, autonomy and enhances possibilities to influence (Purhonen et all. 2020). End user integrational was done from early on in collaboration with the Eskolanmäki comprehensive school hitech and drama students. They provided contents for a service design process by pre-tasks and creating persona, that eventually contributed to mutually agreed Design Drivers to guide the multidisciplinary design team.
Game Proposal and the entire process of coding and troubleshooting was done in the leadership of game designers and coders Panu Vuoristo, Giorgos Riskas, Pekka Vilpponen and Suvi Pylvänen, not to mention the contributions of tens of students who earned ECTS study points and valuable insight into the design process.
Design processes require constant dialogue on meaning, since collaborators and stakeholders request added value in the spheres of technological innovation, aesthetics, usability and end user integrations. Good communication skills including an ability to listen are an asset for the design manager throughout the process. Dialogue needs to be active within the designer group, towards the commissioner and other collaborators as well as towards the community/society; in the form of why is this game/product relevant from the end user perspective.
Who initiated the process?
This co-design process was part of Contents for cross-cultural events, C3E. The project facilitates collaboration between Xamk, St. Petersburg State University of Technology and Design, SPbSUITD, Further Education Institute ICP and with educational institutions, schools, festivals, theatres, creative businesses and the cultural sector. This particular immersive game wall was commissioned by the Kouvola Theatre for their 60th anniversary. Other collaborators include OiOi, Art Testers, Taike Regional Game Artist Jaakko Kemppainen, Kouvola social sector youthwork and urban art and enduser representatives Eskolanmäki comprehensive school specializing in hitech and drama.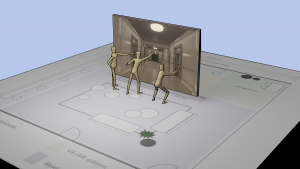 The theme of the game wall was derived from a farce comedy "The Comedy of a Bank Robbery" from the Kouvola theatre 60th anniversary repertoire. Farce comedy stems from Italian street theatre, therefore also the events, the characters and the entire aesthetics of the game wall experience is inspired by Commedia del'Arte (in addition to the 80s).
Three narrative workshops were held with students of game design, design and coding. The objective was to flesh out a more comprehensive narrative for the game, the characters and their motives. Additionally, the product's pedagogical value was evaluated and further enhanced in order that the game have a more meaningful context for the 8th and 9th graders. A glossary listing the most important, topical game development terminology was also produced.
The characterization process was mentored by graphic designer, game designer Panu Vuoristo, fashion designer Esko Ahola, lecturer and dramapedagogue Heini Haapaniemi and Ivan Smirnov from the Smirnov School of Arts, Moscow in shared study modules between the UAS and university students.
What next – how to further develop the product?
The 2:50 min teaser of the Interactive Immersive Game Wall. English speakers: please turn on English subtitles.
During spring 2021 the game was coded, further developed and tested as the interface and the actual wall were finally installed. Throughout summer 2021 the game wall experience will be polished, further develop and troubleshooted. In Autumn 2021 end user tests will follow, all accomplished prior to inviting all grade 8 and 9 comprehensive school students from the wider Kouvola region to experience the game at Xamk Kouvola Campus, Paja Building.
Further research
Further research will be carried out about the end user integration and reception of the game. Other topical questions include, what is the role given to intrinsic motivation, empowerment and learning through engagement.
Research in art and design acknowledges the question of embodied learning through art, in this case, how does movement (the sensors in the wall react to touching) and immersion into a 3D space with a specific soundscapes contribute to the final user experience.
Sources
Baranowski, T., Blumberg, F., Buday, R., DeSmet, A., Fiellin, L. E., Green, C. S., Kato, P. M., Lu, A.S., Maloney, A.E., Mellecker, R., Morrill, B.A., Peng, W., Shegog, R., Simons, M., Staiano, A. E., Thompson, D. & Young, K. (2016). Games for health for children – current status and needed research. Games for Health Journal 5 (1), 1–12. doi: 10.1089/g4h.2015.0026. Epub 2015 Aug 11. PMID: 26262772; PMCID: PMC4770851.
Bowell, P., Heap, Brian S. (2013). Planning Process Drama: Enriching teaching and learning. 2nd Ed., Routledge.
Brauer, G. (2002). Body and Language: Intercultural Learning Through Drama, Greenwood Publishing Group.
Durall Gazulla, E., Bauters, M., Hietala, I., Leinonen, T., & Kapros, E. (2020). Co-creation and co-design in technology-enhanced learning: Innovating science learning outside the classroom. ID&A INTERACTION DESIGN & ARCHITECTURE(S), (42), 202-226.
Leinonen, T. (2010). Designing learning tools: methodological insights. Aalto University, School of Arts and Design, Publication series A 111, Brookwell Ltd., Jyväskylä.
Marttila, T. (2018). Platforms of co-creation: learning interprofessional design practice in creative sustainability. Aalto University, Department of Design, Aalto University publication series DOCTORAL DISSERTATIONS, 154/2018, Helsinki.
Purhonen, K., Poikolainen, J., Pylvänen, S., & Kallunki, V. (2020). Pelit ja pelillisyys houkuttelevat nuoria osallistumaan ja tuottavat osallisuutta – esimerkkinä kaksi kehittämishanketta. Sosiaalipedagoginen Aikakauskirja, 21, 87-110. https://doi.org/10.30675/sa.70184
Ryan, R. & Deci, E. (2000). Intrinsic and Extrinsic Motivation. Classic Definitions and New Directions. Contemporary Educational Psychology 25 (1). 54-67. https://doi.org/10.1006/ceps.1999.1020