How Xamk started modelling the impact of its applied research
02.10.2023
In late 2019, the South-Eastern Finland University of Applied Sciences (Xamk) started developing its RDI impact model.
With 246 RDI projects in 2022, representing 30.2 million euros in direct RDI expenditure by Xamk and 18.6 million euros in external funding, including 12.6 euros in EU funding, Xamk is the largest among Finnish Universities of Applied Sciences (UASs) in terms of RDI activities.
Research and development work is particularly needed in the regions of South Savo and Kymenlaakso, where the population is on average less educated and less internationally oriented compared to other Finnish regions. Furthermore, the population in these regions is ageing and decreasing.
Xamk's RDI activities are focused on four areas, aligned with the economic activity and requirements in the regions where it operates:
●      Digital Economy
●      Forest, the Environment and Energy
●      Sustainable Well-being
●      Logistics and Seafaring.
Impact cornerstones and UN sustainability goals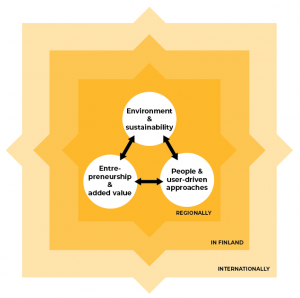 Xamk has defined three 'impact cornerstones' that concretise the organisation's strategic vision for this decade. By 2030, Xamk will have renewed the vitality of South-Eastern Finland:
●      The Environment and Sustainability
●      A Human-Centered Approach
●      Entrepreneurship and High Added Value.
Xamk has integrated the United Nations' seventeen Sustainable Development Goals into its RDI project management system, which means that every project needs to track how it furthers one or more of the goals.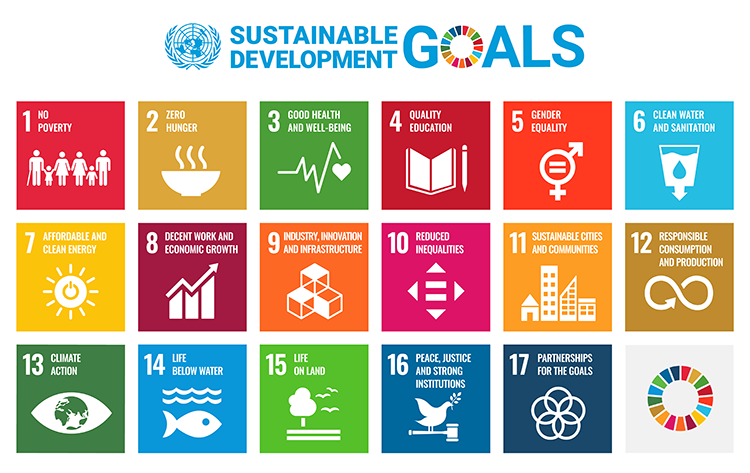 'A model to express our impact'
Hanna Kuninkaanniemi, Xamk's Head of Research Development and responsible for developing its RDI impact model, says the approach to Xamk's RDI model is not strictly top-down, driving the selection and approval of RDI projects.
– We looked at our strategic goals and what we are already good at, she says. – With that in mind, we then built this model to express the impact we make.
The Finnish Ministry of Education and Culture has not required that UASs put an impact model in place.
– But you can read between the lines that it is appreciated, Kuninkaanniemi says. – For us, the initiative springs from our own awareness that we need to demonstrate our impact in order to engage research partners and to secure funding.
– We also need to ensure that our stakeholders and the decision makers in our cities know and approve of what we do. Furthermore, this is one thing we can do to enhance our competitive capabilities in applied research among universities inside and outside of Finland. The bigger picture is that we need to do the right things to enhance well-being and competitiveness in our regions.
International exposure
While Xamk has a clear mandate to make a regional impact, increasingly, it affects nationally and internationally as well. For example, Xamk's Fiber and Process Engineering Laboratory  – one of the University of Applied Science's eleven research units – has been conducting ground-breaking material research in collaboration with national and international partners ranging from UPM and Stora Enso to H&M and Adidas.
With funding from the European Horizon 2020 research and innovation programme, the New  Cotton Project sports a consortium of 12 participants across the textile industry production value chain to demonstrate that creating new clothing from regenerated cotton textile waste is commercially viable and it can be done today.
Xamk's FiberLab has conducted applied research to pilot and scale pre-treatments of collected cotton to remove impurities, particularly non-cellulosic materials like polyester before it is further processed and re-used. In the autumn of 2022, both Adidas and H&M unveiled clothing designed and produced within the project.
Qualitative proof
Kuninkaanniemi notes that impact is not just about demonstrating relevance through performance indicators.
– There is much more to it than how many students we have, how many projects we run, how much funding we receive or how many research papers we publish, Kuninkaanniemi states.
– We're hoping to find ways to demonstrate our impact also more qualitatively. One way to do this could be through case studies and the feedback we have received from the partners and stakeholders that we are trying to have an impact on.