Startup connect meets #websummit 2019
09.12.2019
Are we facing a new generation of AI and VR and can we expect a life throughout VR glasses and not seeing a real tree anymore? On the other hand, is the question to be a "hipster" by driving and flying an autonomous vehicle, the most important fact of this century? Because it might be that, some of us are very much old school; we are not jumping on that train of sustainability. Are there other options to be hip as well?
Web Summit is an annual technology conference held in Lisbon, Portugal. It is the biggest tech event in the world and since 2016 in Lisbon. Earlier it was held in Dublin, Ireland. Approximately 70 000 participants, more than 1200 startups and numerous keynote speakers, such as Edward Snowden (the most famous whistleblower) or Wladimir Klitschko (boxing world champion), just to mention two of many others.
The event was overwhelming, but in a very positive way of thinking, many interesting new opportunities and plenty of possibilities to network with international like-minded people, but also very well organized. Still waiting in lines with other 70 000 people was a daily procedure during the four days of the event. Web Summit was also very interactive, so visitors could participate in open questions by answering with their own opinion, such as
Are "diversity in tech" and "equality in tech" the same thing?
or
Will humans ever live to 150?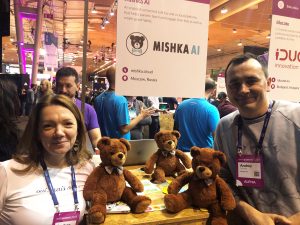 An interesting aspect of the future and its technology. At the event one of the biggest topic was sustainability. Questions occurred: how can we travel sustainability, carbon footprints are shrinking and the need to provide climate friendly travel methods. In this time, each of us need to focus on how to make live an impact in the sustainability question, simple things could be done, with minimum effort, but how and where to start? We heard a lot at the event of autonomous cars and planes, all about future transportation possibilities.
One of the biggest highlight of the event was the participation in the pitching competition of one of our project participants – MishkaAI (AI-enabled connected soft toy and a cloud platform, that helps parents teach and engage their kids as well as create good habits). The competition was decent and from a great variety. MishkaAI proved that their product is of great value and with a high commercial potential.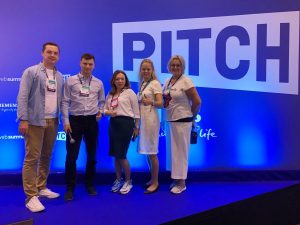 CEO Svetlana Zakharenkova did an outstanding performance and showed the judge panel that their talking teddy bear is a great product for kids to learn simple daily things, with the support for and with their parents. The questions of the judge panel were mainly around the commercial and technology facilities of the bear. Svetlana answered the questions professionally.
The learning outcome and new viewpoints are the main achievement and accomplishment of the event, an expanded network, new opportunities for future cooperation´s and many new technological footprints for a better life in the future. With this new knowledge I believe I might see things different but still I am concerned about the question
"Do we really need all the technology to extend our life? Do we really need all the technology to life better or should we just focus on simple things?"
We should keep in mind that face-to-face communication is the oldest and most hip way to make contact with human beings.
Startup Connect – facilitation of startup, entrepreneurship and SME cooperation in the cross-border region. Project aimed at deepening students understanding of entrepreneurship and innovation practices by organizing student based innovation camps and other cross-border entrepreneurship events.