Promoting Cross-Border Business in Biotechnology and Circular Economy
01.06.2020
There are similar and shared environmental challenges in Finland and Russia, and these challenges need to be solved together, in cross-border cooperation.
Many of technologically advanced scientific inventions in biotechnology and circular economy cannot find their users, and although many companies are interested in internationalization, they have limited knowledge or resources to proceed. Therefore, there is still a lot to do.
The need for intensive and concrete cooperation in circular economy and biotechnology is recognized in both Finland and Russia. Business in Biotechnology and Circular Economy (BBC1) project aims to increase sustainable economic growth in the Finnish-Russian cross-border region. The main target groups are Finnish and Russian biotechnology and circular economy companies operating in the cross-border area, and university students and researchers. The project aims to increase the awareness and competences on entrepreneurship and commercialization of scientific research results, and to improve the skills and competitiveness of companies.
Strong consortium and tested methods
The consortium behind the project includes two strategic alliances, namely alliances of universities ITMO (St. Petersburg, Russia) and Xamk (Mikkeli, Finland) and business development organizations Miksei (Mikkeli, Finland) and AsEP (St. Petersburg, Russia). These alliances work during the course of the project hand in hand. The universities will provide training for companies to improve their competences to operate in international markets, and for students and researchers to accelerate innovations to turn into spinoffs and startups. The business development organizations will help companies in their efforts further.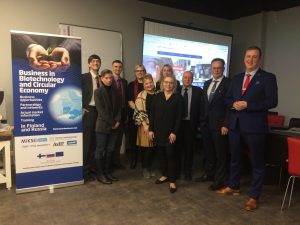 The project uses verified methods for boosting innovation activities in the universities and research institutes. In December 2019, an open innovation competition for students and researchers was launched to find new ideas in biotechnology and circular economy. Over 80 ideas were received for the competition, mainly from ITMO university students and researchers. The best ideas will be selected into an accelerator program. Due to the global COVID-19 crisis, the biggest challenge of this year will be to transform all activities into an online form.
The project offers startups and established companies practical support in their efforts towards viable growth and internationalization. Training programs and matchmaking events for Finnish and Russian companies will be arranged to improve their competences for international markets. Additionally, EcoSairila – a development and cooperation platform established by the City of Mikkeli – will offer a base to cooperate for both researchers and businesses. With EcoSairila, Mikkeli aims to become a top of the world center in wastewater treatment, waste management, recycling and in biogas production. In the future, also a digital platform of EcoSairila will be developed, offering an open access showcase for new circular economy solutions.
BBC1 Project in Brief
Business in Biotechnology and Circular Economy (BBC1) project is administered by Mikkeli Development Miksei Ltd., and partnered by South-Eastern Finland University of Applied Sciences (Xamk), Small Business Center, Finland, and ITMO University and the Association for Environmental Partnership (AsEP), Russia. The project is funded by the European Union, the Russian Federation and the Republic of Finland. The main source of funding is ENI CBC Programme South East Finland – Russia 2014–2020. The implementation period of the project is 1.9.2019 – 28.2.2022. Read more: https://biocircularbusiness.com/