Educational Environments in Logistic Centers in Europe
29.05.2023
Despite the large number of challenges in the logistics sector, new logistics centers are opening globally to provide services and and to give educational platform for all kinds of specialists. This article lists examples of logistic centers in relation to developing Kouvola RRT.
The logistics sector is constantly developing new solutions to meet the demands of growing businesses. A logistics center is one such solution dedicated to all activities related to the transport, sorting, coordination and distribution of goods for national and international transit.
Kouvola RRT, a road and rail terminal in Finland, was opened in 2023. This baet (Bachelor of Adult Education and Training) logistics center in Northern Europe makes Kouvola even more significant international freight traffic center.
It is important to compare practice of education environments in similar logistic centers in Europe. The models of successful collaboration of companies with education and RDI activity, or even some details of these models, could be also implemented in Finland's center to provide effective work and improve the competitiveness of both Finland and Kouvola.
In different logistic centers across the continent, several European universities run courses and conduct different types of RDI activity to provide skills, training and professional development at all levels across the spectrum of logistics and supply chain roles.
Euralogistics center, France
Our first example is the Euralogistic center in Lille, France. The location is close to Arlanda Airport, railway, port and the motorway. There is significant traffic from the Lille terminal in many different directions combining versatile transport systems.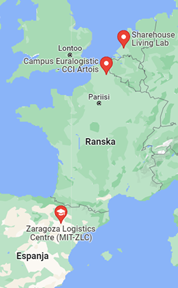 The facility is strategically located in Lille Dourges. The European tri-multimodal facility (DELTA 3) is a logistics park with a total of 600,000 square meters of warehousing facilities, a multimedia conference room, and a campus with training and research activities.
The Euralogistic Campus is made up of two buildings belonging to the Regional Chamber of Commerce and Industry, co-funded by the European Union and by the State. The Campus hosts a group of training and employment partners with their own activities. It trains approximately 2,500 undergraduate students per year.
The logistic and transport training is conducted by three educational companies to improve future logistics operators to requirements of the modern logistics activities, new technologies and multimodal. They have trained and integrated over 20,000 logistics operators in the past ten years. The purpose of the campus is to meet the need for qualified labor in the regional logistics sector.
A list of the campus services includes territorial expertise, logistic center promoting, surveys, engineering projects and a range of innovative services in the logistics training and research and participating in European collective projects.
Historically part of the Euralogistic center was a French multimodal and logistics platform including a major combined transport terminal (rail, road and waterway), a marshalling line and a quay on the Deûle canal. In addition to these facilities, there are warehouses distributed around the railway facilities and a service center. The work on construction was the infrastructural developing project which started in April 2001.
NLC Nordic logistic corridor
A similar project connected to development of transport corridor was sponsored by the EU in the North of Finland in 2011–2014. The transport and logistics route Nordic Logistic Corridor (NLC) is a transport corridor that stretches from the port of Vaasa through the port of Umeå to the NLC Terminal Storuman combi-terminal and on to the ports in Norway.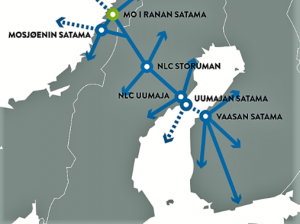 Based on NLC project, the region established the logistics center NLC Vaasa. Just like the RRT area in Kouvola, NLC Vaasa offers versatile plot options near highways E12 and E8 as well as railway, airport and port connections. Unlike in Kouvola, a Vaasa harbour is located only 10 km away (in Vaasa), which makes the location ideal for combining different modes of transport.
Our sources did not provide a comprehensive understanding about its educational and research activity, but the region is known for its skilled workforce: 13,000 students, seven university units and cluster of global companies secure access to suitable labour. The Universities in Vaasa educate engineers in various fields, trade and finance experts, lawyers, teachers, nurses and social workers. The logistic center provides them with a perfect learning environment for practice, research and work.
Zaragoga Logistics Center, Spain
A model of learning environment can be found also in Spain with the Zaragoza Logistics Center, which is a research and educational center affiliated to the Massachusetts Institute and the University of Zaragoza.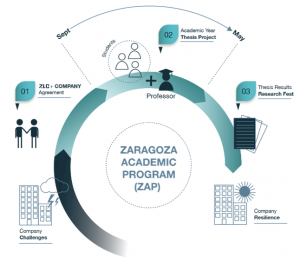 An international alliance of six leading research centers is dedicated to the development of supply chain excellence through innovation. The field of research is Logistics and Supply Chain Management to meet the needs of logistic companies. The logistics area includes 430 companies. Weekly, there are approximately 80 freight train connections and 21 cargo flights.
The center provides wide range of educations. For instance, it is possible to graduate as Master in Supply Chain Management (MDSC), Master of Engineering in Logistics and Supply Chain Management (ZLOG) or Master of Engineering in Logistics and Supply Chain Management (ZLOGb). During the period 2017 –2022, 1 400 people from 50 nationalities were educated in 65 programmes of PDH degree or small customized courses.
Since its establishment more than 15 years ago, Zaragoza Logistics Center has actively participated in the preparation of R&D proposals and their implementation, funded by both public and private entities.
Zaragoza Logistics Center is a great example of educational system based on logistics with wide research opportunities.
Sharehouse Living Lab, Netherlands
Sharehouse is a Living Lab for the future of warehouse work in the Netherlands. In Sharehouse, more than 20 partners (companies, warehousing technology providers, educators and researchers) share, learn and innovate together to address the most important challenges in the logistics industry, including technological, organizational and human challenges.
A physical living laboratory was established at STC's School of Logistics, located in Waalhaven, Rotterdam. STC Group is a training and education center for the maritime, transport and port industries. Sharehouse is funded by the sustainable living laboratory program of the Organization for Scientific Research , Ministry of Infrastructure and Water Management.
Research in the Sharehouse is oriented on transport networks, sustainable urban transport, shorter logistic chains,  bundling self-propelled transport,as well as innovative business and organizational models. Various warehousing technologies are explored in the Dutch logistic center including automated forklifts, exoskeletons, wearable VR/AR devices and forklift simulators.
The model of attention on innovation would be interesting to apply on RRT area in Kouvola this year, for example 5G net or loading technologies. In the future, Kouvola terminal could be a Living Lab for testing and new technologies in perspective.
Conclusion
The logistic centers investigated in Europe have specific features concerning educational programmes and facilities. Some of them could be interesting in relation to the RRT area in Kouvola.
The French Euralogistic center shows a good organization of Supply Chain Transportation & Logistics Center. As this case shows, it would be important that a global center focuses on the following: supply chain, transport and logistics research and education, serving a collaboration of industry[WC1] ,  transport infrastructure agencies and policy makers. The center combines consultation with industry and the public sector, transformative research and executive education.
The Spanish ZLC center shows how a state support can help to develop innovations based on research, education and freight laboratory. Whereas, Sharehouse in the Netherland demonstrates the significance of sustainable, productive, state-of-the-art warehousing logistics.
Kymenlaakso offers access and logistics services to many international supply chains. Kouvola is Finland's only TEN-T core network RRT center. Although the distribution center was built primarily for the transit of the eastern railway, there are still companies in the north and countries with volumes of goods for export.
The idea of a logistics center works effectively as an educational environment. With the use of  good practices from Europe it has great chance to be developed in the nearest time in Kouvola.
Logistiikkakeskus TKI- ja oppimisympäristönä (The Logistics Center as an RDI and Learning Environment) project is financed by the European Regional Development Fund. South-Eastern Finland University of Applied Sciences is the main implementer of the project and it is implemented during 1.7.2022–31.3.2023.
More information on the project's website.
References
Euralogistic – Pôle d'excellence logistique & supply chain en Hauts-de-France. Verkkosivu. Saatavilla: https://www.euralogistic.com/fr/
NLC Vaasa. Vaasa Facilitan verkkosivut. Saatavilla: https://www.vaasafacilita.fi/nlc-vaasa/
Sharehouse Living Lab. Verkkosivu. Saatavilla: https://www.sharehouselab.nl/f-a-q/
Vaasan seudun kehitysyhtiö VASEK.NLC Nordic Logistic Corridor. Verkkosivu. Saatavilla: https://www.vasek.fi/aluekehitys/paattyneet-hankkeet-ja-ohjelmat/nlc-nordic-logistic-corridor/
Zaragoza Logistics Center (ZLC), Research and Educational Institute. Verkkosivu. Saatavilla: https://www.zlc.edu.es/