Six steps to success
05.05.2017
The StartUp Passion (SUP) trainings program starts the second year, with the Hackathon in Latvia, the Kick off (3-day workshop) held in Kouvola Finland and continues with a 5-days Bootcamp again in Latvia.
Xamk´s Creative Industry department and its cooperation partners have high expectations for this upcoming year, to develop a solid working trainings program for the participants, with the outcome and possibility to establish a company at the end of the program.
We started our program with our HACKATHON (24h – idea development challenge), held in Latvia (Turbas) in March, in this event the amount of participants raised nearly 25 percent more as in the first year of the project. We welcomed close to 120 participants form more than 15 different countries. Our KickOff (5.4.–7.4.2017) was a proof of concept, as we welcomed 28 teams, including 11 cross border teams, 17 different nationalities, 110 participants and 5 mentors/coaches, here in Kouvola Finland.
Very intensive workshop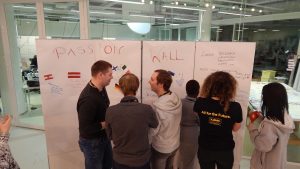 The 3-days KickOff was intensive and packed with lots of information about entrepreneurship, business modelling and many other important topics. The program includes also a 1-day session, in which teams can book their own appointment with a coach they prefer and need the most.
A strong priority is laying in the development of the training program, the main focus point is laying in the needs and demands of the participants, in that sense certain steps as for example the Bootcamp (26.6.-30.6.2017) will be customized according to the development process of each team, after the online session in April. At the Bootcamp all teams are getting intensive pitching coaching to be ready for big stages and get what they need for their pride entrepreneurial future. In that sense StartUp Passion offers competition phase, which will be organized by our partner Tallinn University, the best 15 teams of the training program, compete for the final price of 5000 euros.
The SUP project and its cooperation partners has a wide range of network which we provide to each team, as a supporting tool, so they can proceed further and achieve their highest potential. In that sense the last step of the trainings program "From Business to Success", (provided and organized by Cursor Ltd.) is an important point, to give and offer possibilities to participants, and cooperate with all entrepreneurial ecosystem builders, so they can improve their knowledge, self-esteem, and network and give them the right entrepreneurial mindset.
We are looking into a very positive and promising year, the expectations for Xamk´s Creative Industry department will continue to be high and the set goals will be achieved.
https://www.facebook.com/StartUpPassion/
StartUp Passion in Baltic Sea Region
The project aims to raise awareness and get university students interested in entrepreneurship, building international teams around their business ideas. It will also attract new entrepreneurial talent into the Central Baltic region, as well as introducing a model for supporting the creation of student-based international companies. Project duration: 1.9.2015 – 31.8.2019. Central Baltic project (interreg) Partner organizations: Lead Partner: Cursor OY (Ltd.), Tallinn University and Stockholm School of Economics in Riga (Latvia).