Paving the path to entrepreneurship
14.12.2021
Student-driven companies cannot be forced; they are more a product of a continuous, well thought, and balanced content and environment, which inspires students into exploring different levels of entrepreneurship and developing their ideas in the ecosystem that Xamk creates for them.
*ship Startup Festival is an international startup event for pre- and early-stage startups. The teams in the event consist mainly of university students and *ship has proudly profiled as the platform that supports the next generation of entrepreneurs, who are not yet big enough to take part in larger startup competitions.
The entrepreneurship societies across Finland bring their best teams, mentors, and backstage support to *ship annually, but the event welcomes competitors from outside of Finland as well.
"For me entrepreneurship means freedom and creativity. […] Also it is a possibility because there is no limit in what you can achieve. The possibilities are endless and that keeps me going as an entrepreneur."
– Visa Sippola, Surgify Medical Oy.
In *ship's Mentoring Program, the 50 teams are met by 30 top mentors and given 1 day to talk with as many of them as possible. *ship provides possibilities for the teams to talk with CEOs, business angels, and other experts who they might not ordinarily have the possibility to meet with.
After the intense mentoring and a good night's sleep, the teams enter the stage and take part in the Pitch Captain Competition. All the teams have the chance to pitch their business idea to potential investors and gain valuable insight from expert mentors in their fields. The winner aka the Pitch Captain walks away with fame, glory and a 5,000 Euro main prize.
"Three years ago, I watched other teams to pitch their ideas on the stage and I set a goal that I would come back and do it as well. *ship Startup Festival gives access to everything that a young entrepreneur needs. It has a welcoming community that helps you grow."
– Neveli Niit, CEO at Ridline – the Winner of Pitch Captain 2018
Even though *ship Startup Festival mainly focuses on providing networking and opportunities for the teams and mentors themselves, it is not unheard of that a startup team gets an investor through the event. In total, almost 250 startup teams have taken part in *ship over the years, and we recognize the festival's potential to support our university's student startups and entrepreneurs even more in the future.
For Xamk students, from Xamk students
*ship Startup Festival is an event that has been mainly organized by Xamk students each year. A project manager is appointed and functions as a link between the students and Xamk, but all the magic happens within the student teams.
In 2019, *ship employed 16 Xamk students in various positions ranging from interns to team managers. Many students have conducted their practical internship at the event and an average of 1 thesis a year is written with *ship as the case study.
"[…]that was crazy tiring two days surrounded by open-minded and hard-working people. I asked everybody how I can get to the team? How I can actually make an impact and be part of creating another unforgettable event? And here we go, now I have a chance to work even closer with the team. Crazy, when your dreams come true!"
– Quote from an intern at the 2019 *ship
In 2020 and 2021, a team of 5 students planned and executed the first hybrid startup and -online events in Xamk. Throughout the years, the festival has offered work experience for students from over 10 fields.
Starting from the recruitment, the festival has been able to support students' journey in helping to recognize their professional skillset and strengths, and gaining much needed experience. The event management of *ship is an intense experience which generates rough diamonds ready to take their *ship-experience and apply it to their future studies.
Through the vital culture of experimentation, *ship has encouraged students to create an event full of innovations while challenging themselves by stepping out of their comfort zone. Every individual brings their own unique innovation to the festival, and that is something no one can take away from them.
Planned with reason, executed with passion
In its strategy and performance agreement with the Ministry of Education and Culture 2021–2024, Xamk is committed to strengthening the creation of new companies, increasing the number of student-driven companies, developing entrepreneurship and business conditions, and promoting innovation and commercialization of research results in Southern Savo and Kymenlaakso.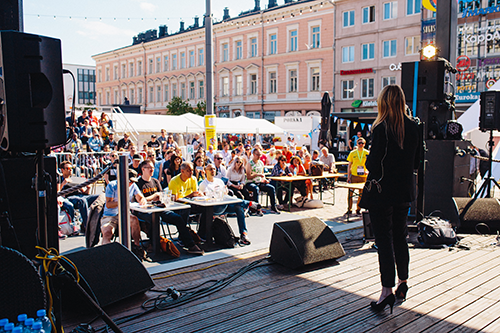 Xamk has many great platforms, projects, programs, and experts working every day to support all students with a drive for entrepreneurship. Together we build logical accelerators, incubators, and other activities around *ship. Through the enrolling process, we are able to learn students' needs and wishes for the entrepreneurial content in Xamk.
If the festival ends up as a natural part of freely chosen studies, we are  able to secure a platform once again for students to safely try out their skills and inspire them to go forward with their passion.
Organized in Kotka since 2015, the event has seen on-location hype as well as the possibilities offered by hybrid and online events. Now is the time to anchor this *ship in its home port and secure this one-of-a-kind platform for Xamk students.
Functioning as an international work life experiment hub, an accelerator program for startups, and a springboard for future work life, *ship has and will be supporting Xamk students on their entrepreneurial journey.
Yrittäjyyspoluilta *ship Startup Festivaaliin Project was founded by the Otsakorpi foundation.