Twin campus – twin city – twin stories and twice that much opportunities
29.03.2020
In Twin Campus project we are going to build a bridge model between our two universities.
In a nutshell about Twin Campus project: https://news.itmo.ru/en/startups_and_business/partnership/news/8623/
According to news.itmo.ru, "The Twin campus project is implemented as part of the South-East Finland-Russia Cross-Border Cooperation program. Its main goal is to build an effective model of collaboration between universities and businesses, as well as improve the opportunities for cross-border cooperation of the two regions and create the environment for the development of new hi-tech enterprises."
The model "Twin Campus" is not yet a familiar term, either we know more the idea of Twin City. Those are existing in many forms, such as Vienna – Bratislava, which brings us to our first benchmark destination "Vienna". The distance between Vienna and Bratislava is 214km, while the distance between Kotka and St. Petersburg is about 270 km and from Kouvola 284 km. We are laying in the same range and makes the Twin Campus model even more attractive.
Twin Cities are existing already, and many examples found worldwide, those cities mainly have an urban environment, founded in close geographic nearness and after a while grow together.
What means twin campus for us?
In the case of our project, the term means to mainly build a bridge model between our two universities. Cooperation is already existing, but our task is also to find new ways that will benefit our students and staff members. Both institutions ITMO and Xamk are building new campuses, and the ITMO High Park (http://highpark.pro/#greeting) will be approximately ready in 2023 same time as our new campus in Kotka.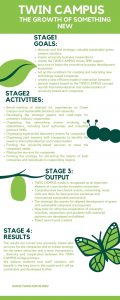 The project will focus very much on best practice examples and finding suitable models and cooperations. The project needs to benchmark on the international ground to see how others are doing it and learning from it. The collection of information and gathering into a strategic paper to create a playbook for the future will be one of our outcomes. The biggest question we still have to tackle – Twin campus? The model itself and what we will build around this term, it is an exciting moment, as we see it as a new business model and we decided to develop it as it would be a startup idea, at the beginning, it is just an idea, and at the end, it will be something new and growing.
The project duration will be until 2021. It involves the execution of certain steps each year, such as studying the international experience in developing an innovation ecosystem in partnership with universities; showing of the best practices in the field of green campuses and sustainable development developing plans and roadmaps, and attracting companies and talents to the project for future cooperation. The result of the project will be the demonstration of suitable and sustainable models; working communication between universities and businesses, including the establishment of experimental laboratories and a cross border cooperation in between them.
A question at the end:
What would be your idea of the term Twin campus?
How do you see the idea behind it?
If anyone has some ideas or comments – please forward it directly to Twin Campus staff members: Sabine Suorsa and Nicole Kahila.