Tell me about social inclusion of young immigrants
29.03.2020
Xamk is currently leading numerous international projects. One of such projects is "TELL me about it", which operates at vocational colleges in Finland (Ekami, Kotka) and Sweden (Folkuniversitetet, Uppsala). The project aims at social inclusion of young immigrants by using cultural and citizenship education methods.
In comparison to Finland, Sweden has a longer history of immigrant integration practices. Currently there is also a larger immigrant population in Sweden. On this basis, different experiences are being exchanged between the two countries.
In both Finland and Sweden, many of those who initiate and carry out immigrant integration programmes have a migrant background themselves. One such person is Iran-born Ali Rashidi, who is the initiator of the TELL project at Folkuniversitetet.
Social inclusion and education go together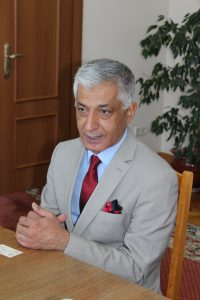 Ali Rashidi has been the Director of the Folkuniversitetet's International Department since 2009. He is responsible for the school's international strategy as well as projects (such as TELL).
The work at the Department covers four overlapping areas: 1) vocational education; 2) school education (disadvantaged groups, immigrant integration, social projects); 3) gender equality, prevention of violence toward women and children; 4) inclusive society, including different groups with a range of needs (disabled people, homeless, lonely elderly people). The Department has about twenty on-going national and 8-9 EU projects in these areas.
Ali has been involved in Swedish EU-projects since the 1990s. Sweden joined the EU in the same year as Finland, in 1995. The issues at the time regarding immigration was labour market inclusion. Since then in both countries the issues have become multiple and more varied. What was called the 'immigrant crisis' and 'the migration wave' in Europe around 2015 was notable also in Sweden and Finland.
Today it is known that some immigrant areas in Sweden have become segregated, involving social problems. For Ali, some youth in these areas "are physically in Sweden, but mentally they are not". The national and EU-projects work to affect some of these problems.
About the TELL project
The project promotes young immigrants' integration and aims at preventing youth exclusion. The project is targeted on young immigrants in Central Baltic region (aged 16-29) in Kotka and Uppsala, which are areas where there are notable immigrant populations. The project organizes workshops using cultural and artistic story-making processes as well as human rights and democracy-games in Finland and in Sweden.
The project received Interreg Central Baltic funding 2014-2020. The aim of the small project instrument (such as in the case of TELL) was to offer opportunity to implement local scale and people-to-people projects. Link to the project website https://www.xamk.fi/tutkimus-ja-kehitys/tell-me-about-it-stories-building-belonging-and-democratic-integration-tell/